[397] 6542 Rolex GMT Master - 1958 - price on demand
[397] 6542 Rolex GMT Master - 1958 - price on demand
---
We offer to our customers this model of Rolex GMT Master, ref. 6542, considered a real collector's item.
Produced in 1958
Case diameter: 38 mm
Dial: Black
Graphics: White
Bezel: Originally made in Bakelite and later replaced with steel bezel after an official rolex recall, as evidenced by the engravings on the case back and the accompanying documentation. It was discovered that the radioactive content of the lunette was above the legal limits.
Glass: "Cyclope" in plexiglass.
Crown: 6 mm diameter Twinlock.
Movement: 1036 GMT.
---
Garanzia di due anni
sui prodotti usati, verificati dal nostro
laboratorio di assistenza, autorizzato Rolex.
Reso facile e gratuito
entro 28 giorni.
Spedizione gratuita per ordini superiori a 150 euro.
Per maggiori dettagli consultate la nostra
Guida all'acquisto.
Un pezzo di storia!
Il documento che alleghiamo testimonia il fatto che fu proprio Rolex a richiamare il modello in oggetto, in quanto si evidenziò, in seguito a delle verifiche successive alla produzione, che i livelli di radiazioni emessi dalla lunetta in bachelite, erano superiori ai valori ammissibili per legge.
L'esemplare che proponiamo, porta l'inconfutabile traccia di tale intervento, sul fondello è infatti possibile leggere la seguente sigla:
SK391-61-1 X3595
Cosa indica tale sigla? Decifrando il codice sopra riportato, si possono evincere le seguenti informazioni:
L'orologio venne richiamato dalla casa il primo gennaio del 1961 per la necessità di eseguire un intervento di "riparazione" parziale. La casa madre prevedeva in fatti la sostituzione del quadrante e della lunetta in bachelite, proprio a causa delle emissioni nocive rilevate (il nostro prodotto presenta tali elementi sostituiti con materiali non nocivi nell'intervento Rolex del 1961).
Infine il numero 3595 lascia presumere che il richiamo venne effettuato dai laboratori newyorkesy, tale numero si riferisce al sequenziale di lavorazione, un numero così elevato (per quegli anni) lascia pensare che sia stata proprio la sede americana ad effettuare l'intervento in oggetto.
.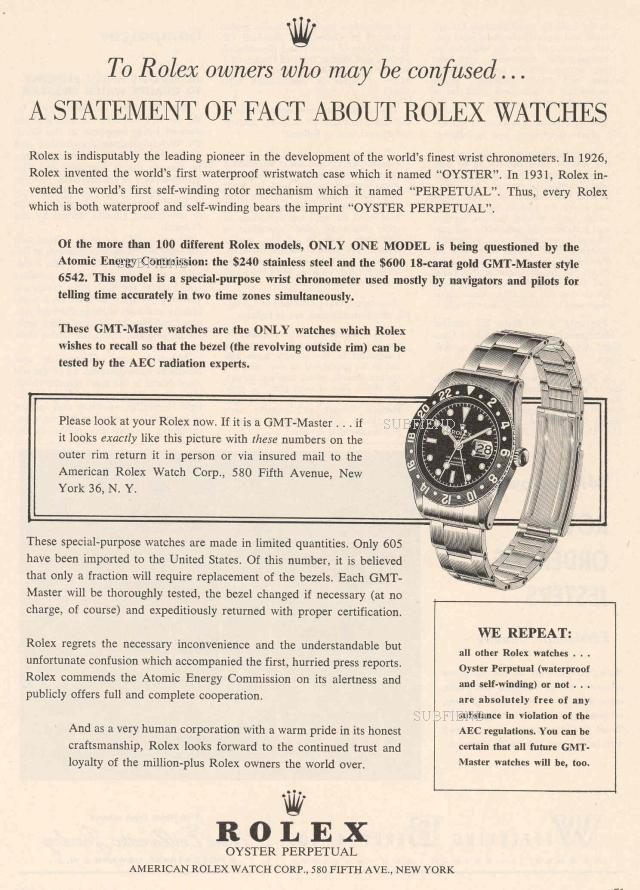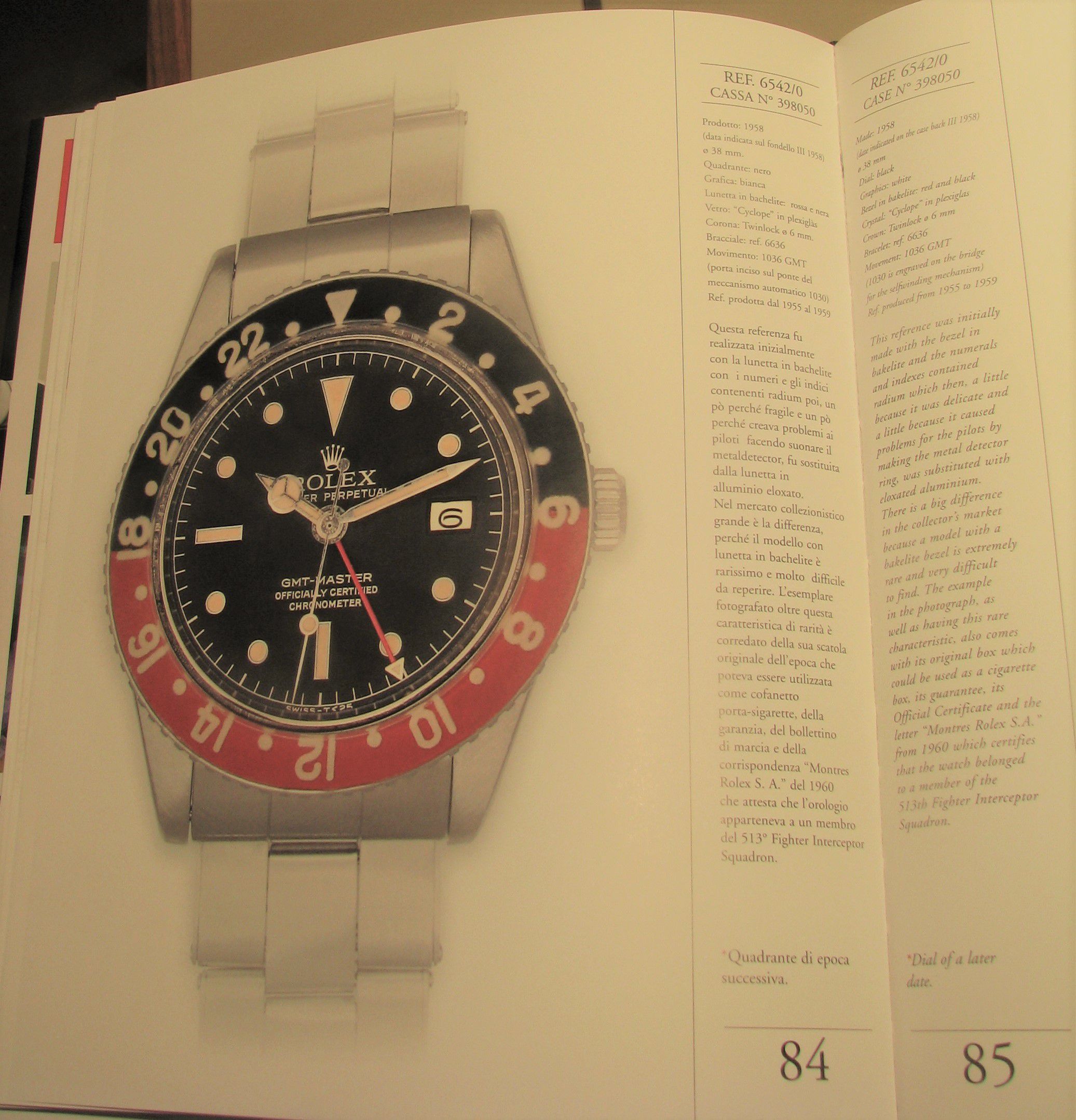 Qui a fianco è possibile verificare le caratteristiche originali, riportate dalla guida Rolex GMT-Master(Guido Mondani Editore).


Tutti gli elementi che abbiamo desiderato fornirvi sono il frutto di una ricerca appassionata, che abbiamo ritenuto fosse più che giustificata dal pregio del prodotto che siamo lieti di presentarvi.
Specifications for [397] 6542 Rolex GMT Master - 1958 - price on demand
| | |
| --- | --- |
| Brand | Rolex |
| Model | Rolex - GMT-Master |
| Case Materials | Steel |
| Case Diameter (mm) | 38 |
| Year | 1958 |
| Bracelet Materials | Fabric |
| Scope of delivery | Scatola Originale |
| Reference | 6542 |
| Condition | Ottimo |
| Movement | Automatico |
| Gender | Orologio da uomo/unisex |